As a country that has long struggled with issues around the environment, fair trade, and equality along its long and winding path to development, China has taken into its priorities to recourse towards sustainability.
From a development plan to encourage the new energy automotive industry, to a tightening plastic ban, environmental protection has made its way into China's national development strategies. On the other hand, in a 2016 national survey through the China Sustainable Consumption Research Program, 80% of consumers have shown willingness to pay a premium for sustainable products.
Even so, being a socially conscious consumer is not easy – especially when sustainable options are not readily accessible, information about products is opaque, the cost is too high, or there is no community of practice.
In recent years, however, we are seeing a hopeful rise of initiatives that aim to creatively tackle the problems of socially conscious consumption from the ground up. Other than offering sustainable and ethical products and services, many of these businesses and organizations also try to purposefully build an effective pathway to sustainable and ethical behavioral changes.
From fair trade, to zero waste lifestyle, to sustainable traveling, we invited three change-makers to share with us their journeys to build a conscious consumption ecosystem from different angles.
Lecong Chen, iFAIR China
"Getting Everyone to Understand a Little More"
To Lecong Chen, the founder of iFAIR China, the quest of promoting fair trade in China has not been a smooth sail. Even today, when Lecong brings up fair trade, she is still often met with either confused stares, or the knowing smile followed by the comment "yes, the trade between China and US does need to be fairer!"
The "fair trade" Lecong has taken on as her mission, however, doesn't necessarily have to do with the sino-US relations. According to the statement from Fairtrade International, fair trade is about "connect[ing] disadvantaged producers and consumers, promot[ing] fairer trading conditions and empower[ing] producers to combat poverty, strengthen[ing] their position and take more control over their lives."
Since its birth in 2008 and through trials and errors, iFAIR China has been trying to make the idea of fair trade take root among Chinese consumers.
The "Yuan Xiang (远乡)" program was born out of Lecong's ever-evolving thinking on how to offer something of value to consumers. The word 远乡 means "a faraway hometown," and the program brings travelers right into the homes of craftspersons in rural areas in China to learn about the traditional arts and crafts they practice – such as the Yao indigo dyeing technique in Baixing Village, Guizhou, or the Miao embroidery in Laojiazhai Village, Hunan.
Proceeds of the trip go directly from the hands of the travelers to the villagers, without a cut in the middle. So while travelers enjoy a unique, authentic experience that is leanly priced, the villagers also find dignity in labor and respect for their traditions, in addition to earning a fair share for their efforts.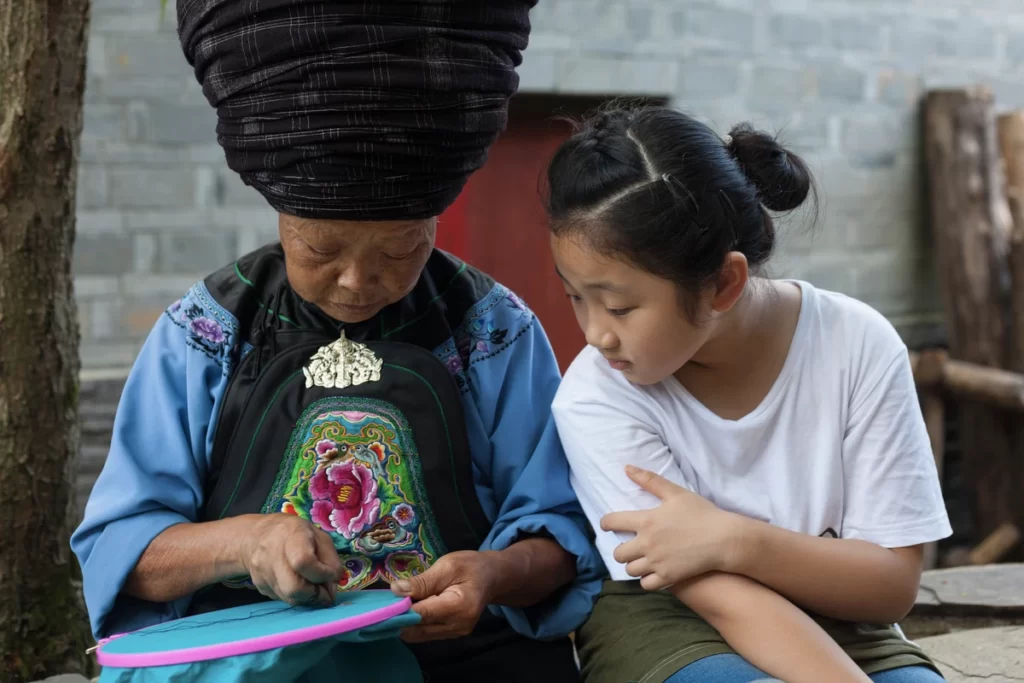 As the program spreaded through word of mouth, Lecong was able to see some momentum gathering. "Sometimes people I didn't know would find me after going through the program to chat more about fair trade." She shared, "One person once said, 'you know the dentist? He's the one who told me about Yuan Xiang.' It turned out I didn't know the dentist either." That was when she knew the program was ready to stand on its own like a grownup child.
So now, Lecong is able to go back to her larger agenda: to make the concept of fair trade more accessible through education.
Helping people by paying them what they deserve and not by charity, fair trade sounded intuitive to Lecong from first sight, but she learned that was not the case for everyone. Some even found it incredible – when they struggle to be treated fairly themselves, it seemed hard to think about fairness for others.
"I believe there is biodiversity among consumers. Everyone has a perspective shaped by their own experiences and education." While Lecong learned to face rejections with calm understanding, she turned her hope towards basic education to increase understanding among the general public.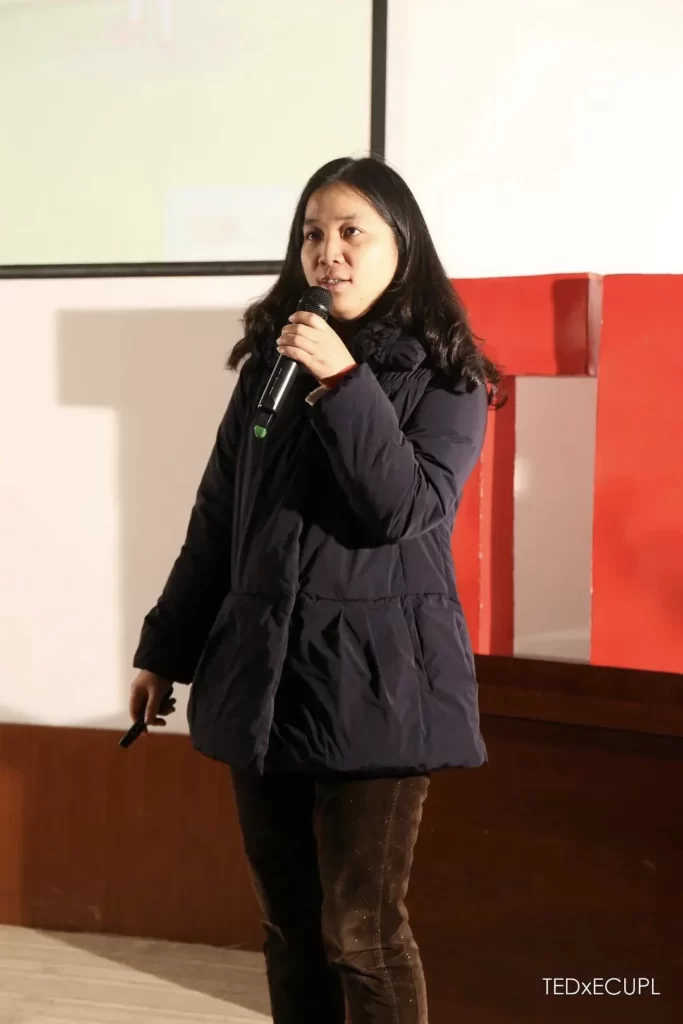 While Lecong doesn't yet find it possible to enforce fair trade through legislation at this stage of China's development, she is hopeful to bring change through individual consumers, "We can at least help more consumers understand how this could help disadvantaged producers. This is why I am so insistent on designing curriculums on fair trade."
To create a pathway from understanding to action to habit, Lecong's ambition for iFAIR China's next steps is to put a little dose of fair trade into the water supply, "My goal is for it to become a chapter, in one way or another, in the basic education system in China. If a curriculum like this can be acknowledged by the Ministry of Education, then iFAIR China would have completed its mission."
Carrie Yu, The Bulk House
"Walk The Walk, Talk The Talk."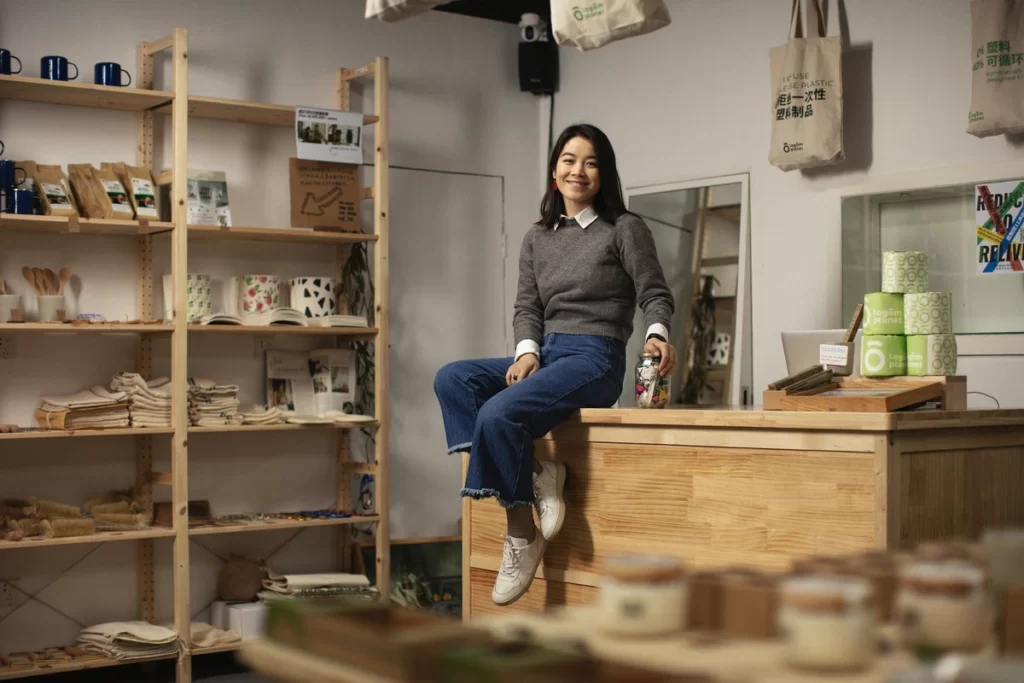 Carrie Yu is a believer in actions.
Many got to know Carrie and THE BULK HOUSE, her social business that advocates for zero waste lifestyle, from articles headlined "Beijing couple produced only 2 jars of trash in 3 months." That was the record in 2017. In 2020, the headlines had updated to "Girl who produced 1 jar of trash in half a year."
To Carrie and her partner Joe, though, these records are rather reminders, for themselves and for everyone else, that a lifestyle that produces so little waste is truly possible.
The journey leading up to the opening of THE BULK HOUSE started within. An unexpected move in 2016 made Carrie realize how many things she owned. From then on, she reexamined what she needed in life and started living with less.
Now, THE BULK HOUSE is both a brick and mortar shop in a hutong in Beijing, which sells zero waste, zero packaging products, and an online platform that shares ideas and tips around zero waste lifestyle.
In the chicken v. eggs question about ideas and action, Carrie is grounded in a "do it first, and talk about it later" attitude. So, as her brainchild, THE BULK HOUSE also focuses on making it easier for consumers to adopt a zero waste lifestyle, one product and one action at a time.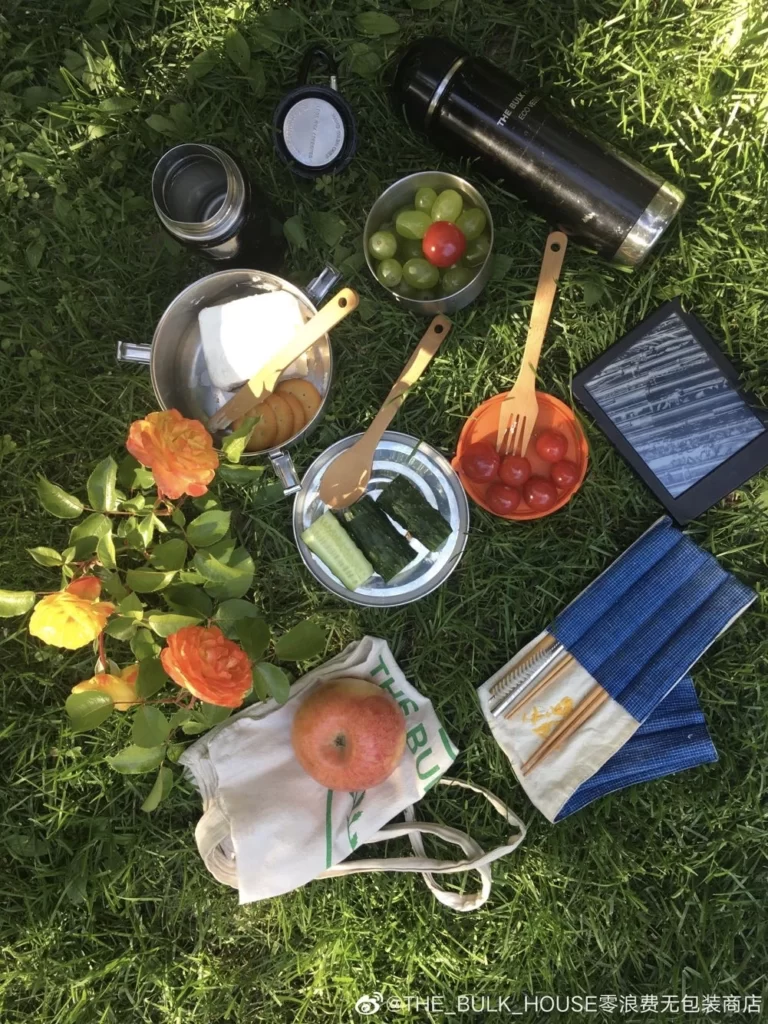 Zero waste is not inconsistent with the age old Chinese motto of frugality, but juxtaposing that with the lifestyles and trends in contemporary China, unique challenges arise.
In the beginning, Carrie would face a dilemma when she went grocery shopping. Usually, the aunties at the vegetable stalls would already have a plastic bag open, and before you realized, in went the vegetables. "If I told her I didn't need it, the auntie would say generously, 'oh it's ok. It's free!'" Carrie recalled.
In a society that's trying to outgrow its impoverished past while the general public has yet to catch onto the idea of sustainability, choices related to reducing harmful consumption are often interpreted as unnecessary frugality, or being cheap.
But instead of preaching the right ideas of zero waste, Carrie focused on her products instead. All products at the BULK HOUSE are daily necessities that everyone needs. They look stylish, they are durable or easily decomposable, and they save money in the long run. As a stickler to quality, Carrie diligently designed and sourced everything to create the best user experiences. As a result, THE BULK HOUSE has gained not only popularity among the young and conscious urban consumers, but also approval from all kinds of residents in the neighborhood.
Carrie hoped these products would become a concrete embodiment of a sustainable and responsible attitude towards consumption, "We used to spend a lot of time selling the idea, but then I realized just having the public understand zero waste is not enough – they are still not practicing… We hope when people use these products, they start to see for themselves how different it feels from using plastic ones."
What THE BULK HOUSE is actually achieving through this lowering the threshold for everyone to start participating in sustainability – perhaps not necessarily with a fully onboard mindset at first – and then see a connection between themselves and the environment.
"Rather than getting a few believers to practice sustainability in its purest forms, we want to get everyone to start with doing just a little bit."
Carrie calls for everyone to harvest from their power to "do something": "China is a big country with 1.4 billion of people. We can't expect the government to notice every single issue, so it falls on the individuals to pay attention to our own practices. We hope to help people understand that every choice and change we make now could affect our future and generations to come."
Dani Wang, imPACKED Travel
"Let's Do It Together"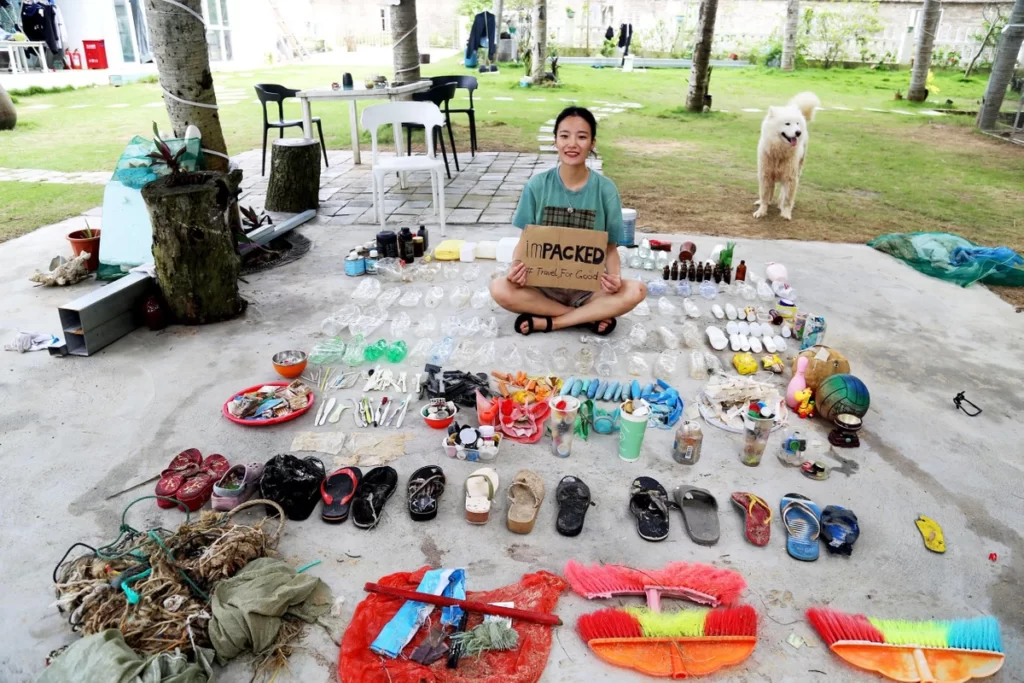 Dani Wang would probably nod her head to Carrie's call for everyone to contribute their own power. As an avid world traveller and the founder of imPACKED Travel, Dani has her eyes set on what it takes to build a movement.
imPACKED Travel now takes the shape of an imaginative conglomerate, an all-in-one package to make it easier for everyone to travel sustainably. On its lively WeChat platform, one can find a podcast, an interactive map – imPACKED GO – showing sustainable and fun attractions in cities around China, in-depth educational articles about travel-related sustainability issues, and immediately actionable tips and tricks to make life more sustainable.
"What I have gradually learned is that we can't just tell people what's right, without offering a solution. They wouldn't know how to act on it." This is Dani's tried truth. And indeed, aside from a chic and fun look, all the content on imPACKED Travel focuses on making information digestible and breaking down the barrier towards actions.
It worked. Some readers have immediately canceled their upcoming skiing trips after reading on skiing's environmental impact. Some saw an article about sustainable spots in Changsha, a city not on their travel radar before, and packed a bag to go.
Dani reflected, "We're not telling people sustainability is something you have to practice. But we make it 'cool', so people want to follow along."
China's massive tourism industry has likely seen a 3.43 billion revenue in 2020, even after being hard hit by a 43% drop due to Covid-19. The reality in the eyes of ordinary travelers in recent years, however, have begun to look like routinized, homogenous, algorithmic options from rating websites like Dianping and Mafengwo as well as packaged tours.
"We have lost the habit of making independent judgements. We take the information fed to us, but it's hard to see behind these products and services: Are they friendly to wildlife? Are they paying locals fairly?" Dani shared her concerns, but then her determinations too, "We can help travelers do better by making information and alternatives visible, so they can slowly rebuild their critical thinking. "
"We are fighting to get travelers' rights back." Dani summed up the mission of imPACKED Travel – not as a lone fighter, mind you, but an army commander who's enlisting the help from the mass, and making it fun along the way.
Here is how the impact of individual powers comes in a deeper way in this initiative – people are not only seeing concretely how they can participate as consumers, but also inspired to join forces to take the impact further.
A volunteer-driven structure does not only save cost for the initiative at the early stage, but also offers an opportunity for empowerment. One of the volunteers never knew she could write before joining imPACKED Travel, but now she has become one of the most prolific contributors. Other platforms had even invited her to write paid articles. Readers had also shared how her work changed the way they lived. She saw a transformation in herself, and found affirmation in the impact she was able to make.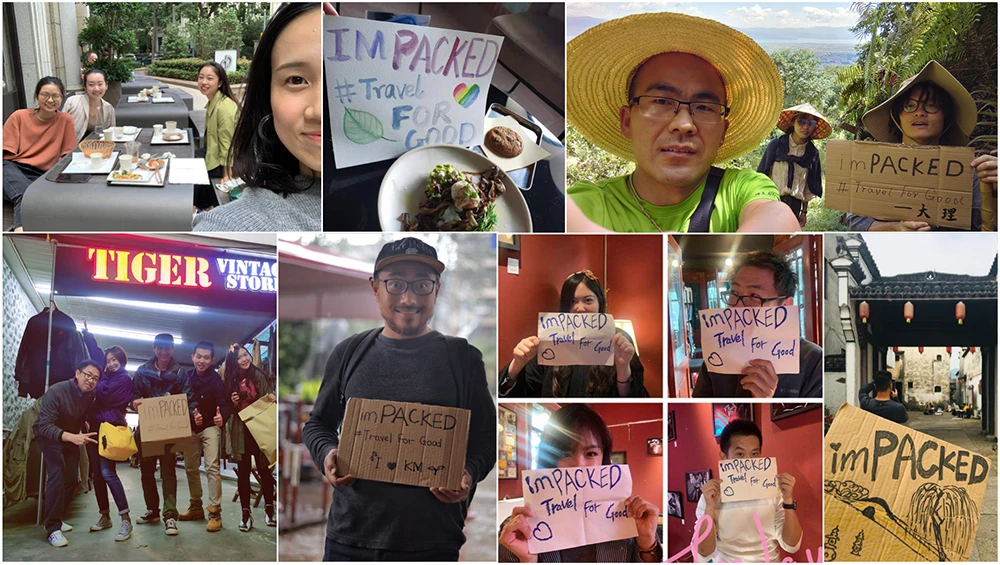 Dani could've chosen to do the work herself, but what she wanted was a movement. "What I care about is to get people to do this together. The results are important, but the process is more so." Through its City Hunters program, imPACKED Travel had already enlisted dozens of volunteers to add information onto its city maps. Dani was happy to see that many volunteers even started creating additional content without being assigned to.
"I found it very powerful. In initiatives like this, mass communication and organic sharing is very important." An example that Dani liked to tell everyone was the study in which scholars found that people were more likely to install solar panels when their neighbors did so. "People's mindset might not have changed first. But as they step over the barrier to action, a mindset change might come along."
While the idea of sustainable travel has begun to catch on like wildfire, Dani was also watching a community effect coming into reality, "We just had a 3-hour volunteer meeting – hands down my favorite online meeting ever! Even though most of them had never met each other, we were able to chat about many deep topics, and there was a natural feeling of trust."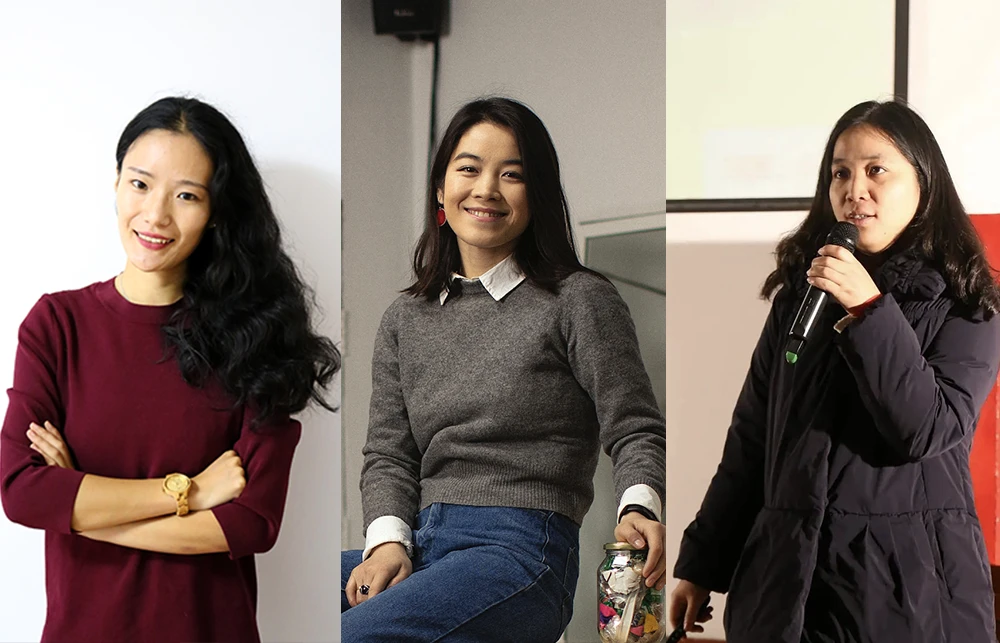 "An advocate."
"A supportive peer."
"A companion and inspirer."
When asked about what role they saw their organizations play in our society's development today, these were the answers Lecong, Carrie, and Dani each gave.
As their stories show, all three share the recognition of the importance of education and information, bringing consumers value, and leveraging the collective power of individuals – and most importantly, they share a drive to put their own passions for a sustainable future into action.
"We have to first admit that this society's issues around sustainability are extremely complicated. We need to be patient, and not expect to see the changes we want overnight." As Dani put it, "But we have not escaped to build a more ideal community somewhere else, because we want to be grounded here in our society and grow and develop with this society along the way."