By Eniola Abdulroqeeb Arowolo
Over the years, Nigeria has faced the detriments of climate change which has, according to a report by BBC, left over a million people displaced. The country is used to seasonal flooding and has continued to be a disturbing threat to the lives and properties of the people.
This brings one to the recent rise in floods in Nigeria; thousands of homes, roads, farmlands, and other substantial infrastructures have been excessively damaged or destroyed. So far, in 2022, flooding has impacted over 27 of Nigeria's 36 states and, as officials have projected, several more weeks of flooding should be anticipated.
Floodwaters have inundated many communities along the banks of the Niger and Benue rivers. A lot of individuals residing in the south-eastern and north-central of Nigeria have lamented how hard survival and mobility have been for them. About six out of the eight local governments in Bayelsa state have been absolutely consumed by floodwaters.
Yeri Dekumo, a special assistant to the Bayelsa state governor, also buttressed how residents of some communities in the state, especially in rural areas, have had to sleep inside canoes and move around with them.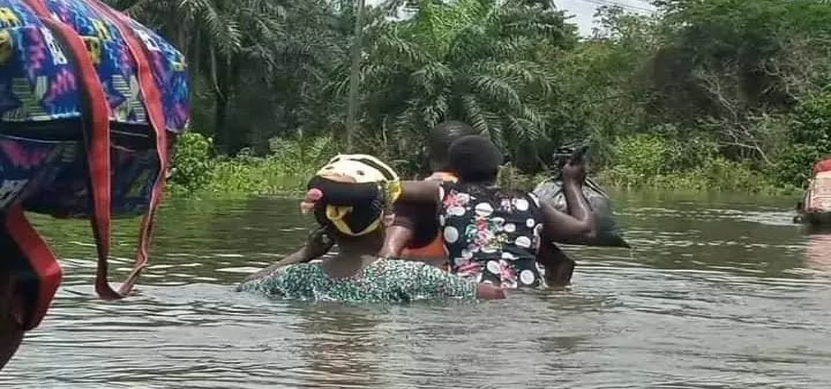 Cr: Clarkson Ikpo Diri
According to a report by News Agency of Nigeria (NAN), the traditional ruler of Tungbo town in the Sagbama local government area of Bayelsa State, Amos Poubianfa, claimed that he now sleeps in his car as floods have inundated his palace.
"It reached the knee level and made the palace uninhabitable,'' Mr Poubinafa, a retired naval officer, told the News Agency of Nigeria (NAN) on Monday in Tungbo.
"The car is the only safe place for me; the entire building is flooded and there is no safer place for me to sleep.
"My family has been relocated to Yenagoa. As the Captain on board (traditional ruler) this vessel, I cannot abandon my subjects to seek alternative abode outside the town.
"By my training as a naval officer, I am not expected to abandon the crew I am leading in my vessel. I am expected to be the last man standing,'' he said.
Effects of Flooding
This humanitarian crisis has started contributing substantially to food insecurity, and likely to worsen in the future by increasing food prices, and reducing food production. The agriculture sector suffers in this devastating problem as there has been huge losses of farmer's investments, properties among others, as recently reported in some states in the northern region. The phenomenon has become a sad reality for poor communities whose livelihoods are being washed away by floods and children whose education are being truncated by the harsh economic impacts of climate change.
Climate change has increasingly become a major threat to the country's agricultural productivity. Well-drained agricultural plains have become flooded in recent times, increasing aridity of the Sahel and Sudan savannah belts has had adverse effects on agricultural activities in the region.
The outcomes of climate change such as heavy precipitation, abnormal onset and cessation of rainfall, rising temperatures and alteration in relative humidity have negatively impacted agricultural activities and food systems in Nigeria.
In 2012, similar floods occurred across the country which killed more than 300 people while millions were left internally displaced after an excessive disgorge of water from same Lagdo Dam.
What Can be Done
Nigeria needs to implement strategic and effective policies that will enable her cope with the challenges brought about by this flooding to ensure food availability and security through a sustainable agricultural system. Such measures will facilitate easy adoption of climate smart agriculture by farmers while ensuring improved yield.
While climate change has played a significant role in worsening the flooding, there is much of it to be blamed on the inadequate responsiveness of the appropriate authorities to the issue. Although the disaster has been ascribed to the release of excess water from Lagdo Dam in neighboring Cameroon and on unusual rainfalls, there is a dire need to curtail this.
To truly ameliorate the impact of flooding and climate change at large on lives and properties of the people, Nigeria should employ a warning system that would enable us to react to future flooding attacks. Also, there should be availability of evacuation and ensuring safety which people could utilize in the advent of floods. Investments in irrigation will boost farmer yields despite unfavourable weather. Better roads can help connect markets, which would help farmers sell their crops at fair prices.
Water harvesting which refers to the collections of rainstorm-generated runoff from a particular area in order to provide water for human, animal, or crop use is a handy resource to implement in the advent of dry season.
Dikes and levees are also embankments that can be constructed to prevent flooding. Levees may be formed naturally or artificially. They prevent the water from overflowing and flooding surrounding areas. Dikes are walls that hold back the sea. Furthermore, local authorities should widen and pull down structures that are obstructing water ways across the country.
On a final note, appropriate authorities responsible for the management of flooding and other climatic conditions should swiftly intervene and make provisions to the victims and areas where this disaster has affected as this continues to dread the general public of the nation.
---

---
References
https://www.theguardian.com/environment/2022/oct/20/flooding-world-climate-crisis-australia-venezuela-nigeria
https://www.google.com/amp/s/www.bbc.com/news/world-africa-63280518.amp