This is Diinsider's introductory series of articles exploring the environment of social enterprises in ASEAN.
Since about ten years ago, the phrase "social enterprise" has been more popular and well-known in ASEAN. In the region, there is no universal agreement on the definition of social enterprises. Though such organizations are not new to ASEAN, the idea that supports them is businesses that are strongly influenced by societal ideals have always existed throughout its history. The proprietors of many of these companies prioritize achieving social goals because they want to help the people at the bottom of the pyramid. Generally speaking, social enterprises are organizations that use the exchange of goods and services to make a positive social and/or environmental impact.
They fall somewhere in the middle of the organizational spectrum, between typical companies driven primarily by profits and traditional charities motivated primarily by social value. Social enterprises have several bottom lines to balance, as opposed to pure-social or pure-profit organizations. Along with pursuing financial independence, they aim to be agents of social change. A social enterprise typically seeks profit from its commercial activities as a method to create social impact, as opposed to a standard firm, which wants profit for its shareholders/owners.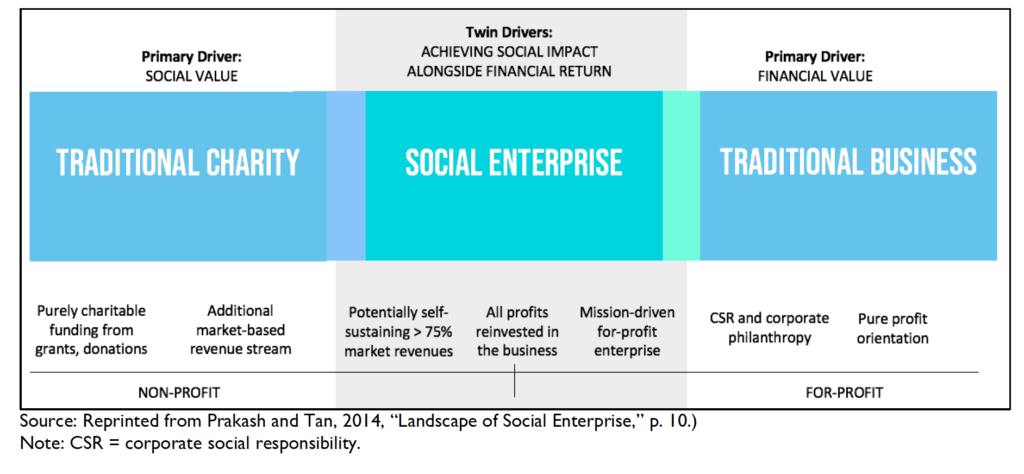 Spectrum of Organizations
The emergence of social enterprises in ASEAN
The cooperative is one of ASEAN's most widely used types of social entrepreneurship. Cooperatives are groups of individuals who band together to achieve common goals and needs in the economic, social, environmental, and/or cultural spheres. Cooperatives continue to be the major type of organization in the social entrepreneurship sector in various ASEAN nations, including Indonesia and the Philippines. Foreign aid to these nations has decreased recently as some of the ASEAN nations have flourished and moved from low-income economies to lower-middle-income ones. As a result, several nongovernmental organizations have switched to social enterprise models or created social enterprise arms in an effort to become self-sufficient and less dependent on donor financing.
Objectives and activities of social enterprise
Social enterprises have various objectives and work for a large range of beneficiaries. However, they focused on working to make better for a particular community, especially for marginalized or disadvantaged society by creating jobs and providing opportunities. In terms of creativity and innovation, social enterprises have been operating in all parts of the economy from traditional sectors such as agriculture, education, and health to new sectors such as sustainable materials and clean energy. Social businesses frequently make it a point to operate in the most difficult markets while also making an effort to hire some of the most marginalized groups. They are also addressing some of the most enduring issues in society and the environment. Therefore, it is not surprising that they also encounter some significant scale and growth-related difficulties.
Each ASEAN nation has a significantly different level of the social entrepreneurship sector. In ASEAN, Indonesia (over 200,0001), the Philippines (over 164,0002), Thailand (over 116,0003), and Viet Nam (over 165,0004) have the most social enterprises per capita. The majority of the SEs counted are cooperatives. On the opposite end of the scale, Brunei Darussalam and the Lao PDR are said to have a limited potential for social enterprises with only a few of them. A few hundred to tens of thousands of social companies exist in Cambodia, Malaysia, and Singapore between these two points. Due to different definitions of what constitutes a social enterprise, it should be noted that the size of the sector stated by different countries may not be totally comparable.
Policy framework and legal status
Most ASEAN countries haven't put any policy tools in place to support the expansion of social enterprise. At best, there are still very few plans for these instruments. The first countries to have an accreditation program or a legislative definition for SEs were Malaysia, Thailand, and Vietnam. The Vietnamese concept, however, is not accompanied by rewards and is reported to have had little effect. Since Malaysia's accreditation program just began in July 2017, its effects are still uncertain. More ASEAN nations may adopt comparable policy instruments if Viet Nam and Malaysia succeed in advancing the SE sector through the use of a legal recognition and/or accreditation process. This is especially true for the Philippines, where the Senate has yet to approve draft law recognizing social enterprises.
In this regard, Thailand is in a special position. In 2016, it enacted the Royal Decree on Tax Exemption (No. 621) B.E. 2559, which included a legal definition for social companies and tax breaks. However, it is unclear how effective the implementation has been. Although the Stock Exchange of Thailand has offered additional incentives for the SE sector, it has been suggested that these won't have a significant influence unless the legislation to assist SEs is successfully implemented. Singapore, on the other hand, has pro-business regulations that also help social entrepreneurs. Singapore is placed second best for government support of SEs in the aforementioned 2016 Thomson Reuters worldwide poll, behind South Korea, despite the absence of a specific legislative recognition or accreditation program for social businesses.
The ecosystem of the social enterprises in the region
The ecosystem of social enterprises is the setting in which these businesses function. Due to the unique objective of social enterprises to do good while also being sustainable or lucrative, the ecosystem may be distinct from that of typical businesses. Ecosystem participants, such as professional and support services providers, capacity builders, research institutes, network providers, fund providers, and competition organizers, offer a variety of support and services to create an enabling environment that supports the growth of the social enterprise sector. The growth of the social business industry is closely related to the growth of ecosystem players. Generally speaking, a thriving social entrepreneurship sector is supported by a thriving ecosystem.
Social enterprises for socio-economic development
As the poor and vulnerable groups work to better their socioeconomic standing, social business is becoming more and more important in ASEAN. It is also being viewed as one of the tools that can help them do so in a sustainable manner. In reality, the ASEAN Secretariat has recognized social enterprise as a way to assist ASEAN in achieving sustainable rural development and the elimination of poverty in the ASEAN Framework Action Plan on Rural Development and Poverty Elimination 2016-2020 (ASEAN Secretariat 2017). In achieving sustainable rural development and the eradication of poverty, social enterprises may contribute significantly to ASEAN.
The first goal includes a contribution from social enterprise. To give disadvantaged groups and low-income households access to services like health care and utilities, many social businesses have been established. Their objective is to increase social protection for these groups of people by, among other things, lowering their economic and social risk through employment and access to necessary services. Social enterprises have produced a variety of overlapping benefits. For instance, a social company that expands energy access helps households to create more at night or during dim lighting conditions, so enhancing their economic involvement. These households can then save more money and become more resistant to hazards to their health and economy thanks to the higher income.
Financing for sustainability
According to European Commission 2016, in social finance, choices are made based on values and evaluated holistically, taking into account not only the conventional financial return but also returns to society and the environment. In ASEAN, the social finance environment is still developing. Compared to more developed markets like India and the UK, the amount of money released is little, and the transaction structures of the financial instruments being employed are simple. Indonesia, the Philippines, and Vietnam are the top three ASEAN countries where impact investments are sought after (UNDP 2016). These are the more populated ASEAN nations, all with sizable young populations and perhaps greater social requirements. Many ASEAN nations are currently experiencing the missing middle gap as a result of regulatory difficulties and supply and demand imbalances. Few social firms are at the investment-ready stage in this gap, although many are in the seed or early phases. On the financial side, fewer impact investors are willing to fund the seed/early stages than the investment-ready level.
Challenges and Opportunities
In the ASEAN region, social entrepreneurs encounter numerous difficulties. Important aspects of them include business registration, client acquisition and market development, financial gaps, a lack of public awareness, scalability, and talent acquisition and retention. The difficulties do not provide a whole picture. Hope for social entrepreneurs to continue growing in the ASEAN region is offered by a number of options. The expanding middle class, a vibrant ecosystem that supports the social business sector, the expanding social finance sector, rising awareness, and the potential of the social enterprise sector are some of the key opportunities.
Beyond the potential economic benefit to ASEAN, social enterprises' triple-bottom-line strategies will considerably advance numerous sustainable development objectives and help millions of people in the region live better lives. They will also benefit ASEAN governments by decreasing the cost of social assistance as millions of people may not require welfare assistance, increasing tax revenue as these people become tax generators, and decreasing the need for government intervention or the provision of basic goods and services.
Way Forward for future growth
As social enterprises are reliable actors to improve the socio-economic status of marginalized and vulnerable communities and drive economic growth in ASEAN, policymakers should encourage them to create a supportive environment for the growth of the sector. They can be developed with concrete action in several areas such as closing the funding gap, building a pro-business environment, strengthening capacity building, and expanding regional networks. From the government side, social enterprise-friendly policies which include tax exemption, incentives for corporations and preferential status for public procurement should be implemented in each country. Apart from government support, the funding gap also be reduced by foundations, commercial banks, and impact investors. With support from different sectors and actors, social enterprises can reach their goal of creating a good socio-economic environment.
---

---
References
The Social Enterprise Landscape in ASEAN: A Synthesis Report in July 2018
The State of Social Enterprise in Southeast Asia, February 2021