Africa can become a new global supply chain force: UNCTAD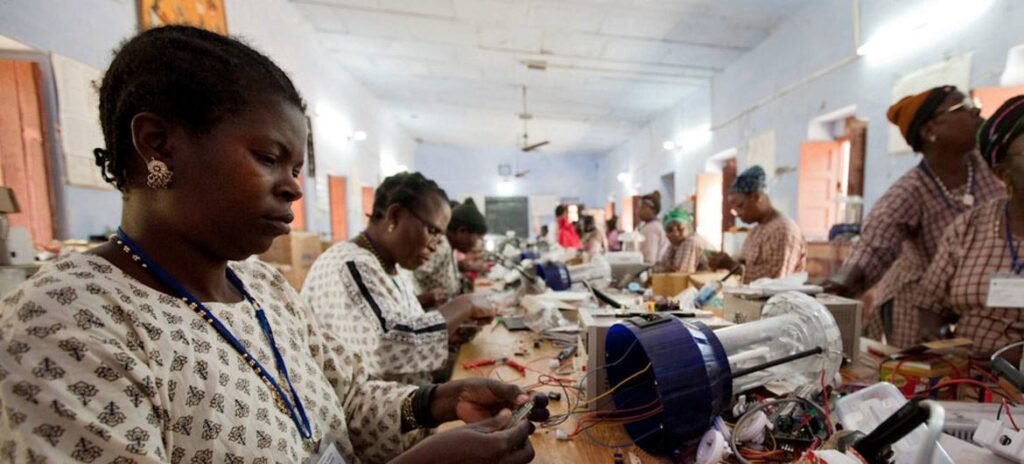 © UN Women/Gaganjit Singh| Women from rural areas learn how to build solar power items.
In a new report, UNCTAD described that Africa has the potential to be a main exporter of higher value-added goods, spurring economic growth and employment while also driving up productivity and salaries. Rebeca Grynspan, the UNCTAD Secretary-General, proclaimed that the report would provide a better future for the economy of the continent when it was released in Nairobi. Ms. Grynspan stated that diversifying trade "builds resilience and enhances innovation" and added that diversification was "key" to the growth of the private sector and the creation of jobs for Africa's expanding population. Africa also has a distinct edge in the growing market for renewable energy since it is a major supplier of raw materials for businesses that rely heavily on technology, such as the production of lithium, which is necessary for the manufacture of batteries for electric vehicles. According to Ms. Grynspan, it has the potential to develop into a hub for manufacturing and ought to aim to export more sophisticated completed goods as opposed to merely raw materials.  In terms of demography, Africa has a dynamic, young labor force as well as a "burgeoning" middle class that provides local consumer markets for high-tech products. The head of UNCTAD noted that while the average monthly income in the Americas is over $670, it is only $220 on the continent and that raising salaries will result from creating an environment that is favorable to technology-intensive sectors. African economies will diversify and become more resilient to future shocks, according to UNCTAD, as a result of greater integration into global supply chains.
From ashes to riches: Profiting from peatland in Indonesia
UN Indonesia/Kiky Wuysang
A school building was rescued from burning down, farmer incomes have increased by 50%, and a healthier peatland is lowering greenhouse gas emissions. Since the program's 2019 beginning, which also includes training for locals and crucial infrastructure enhancements, the risk of fire has been significantly reduced, and the inhabitants of 121 villages in coastal West Kalimantan have been given new tools and resources to help their communities. The wetlands of Limbung and Jongkat are known as peatlands, and their soil is almost entirely made up of organic material produced from dead and decomposing plant materials. Peat eventually transforms into coal in some geological settings. Peatland stores massive amounts of carbon dioxide before igniting, just like coal seams do. Fires generate a significant amount of carbon dioxide in addition to destroying villages and farmers' livelihoods. With assistance from BRGM and a non-governmental organization (NGO) hired by UNOPS as part of a project sponsored by the Government of Norway, local farmers in Jongkat determine which crops are best suited to their land and to non-burn farming. About 20 families received instruction on non-burn agriculture and the use of natural fertilizer; they are now demonstrating the techniques to their neighbors and relatives in neighboring places. A few pilot canal blockers, which are concrete constructions that hold water in the area's canals so that it is always available for firefighting and irrigation, were built with design and funding assistance from UNOPS. Better irrigation reduces the quantity of carbon dioxide released into the sky by stopping the land from splitting, drying up, and rotting. In order to maintain the soil's moisture and reduce the likelihood of fires and decomposition, peatland restoration also entails re-vegetating the area. BRGM and its partners have constructed 179 canal blockers in 27 local villages using government funding and a design that is based on the UNOPS concept.
AI tools like ChatGPT likely to complement jobs, not destroy them: ILO
© Unsplash/Steve Johnson| An ILO global analysis suggests that most jobs and industries are more likely to be complemented rather than substituted by the latest artificial intelligence wave.
The study produces an international analysis of the possible exposure of tasks and jobs to generative artificial intelligence (AI) and the possible implications for employment quality and quantity. It was prepared by three social scientists who work for the UN agency and believe that the new technology will probably enhance occupations rather than replace them totally by automating some duties. According to the ILO report, the profession with the greatest exposure to technology was clerical employment.  Only a tiny portion of jobs were found to be in danger of redundancy in other occupational groups, such as managers, professionals, and technicians. The study identifies significant variations in the consequences on nations at various stages of development, which are related to present economic structures and existing technology disparities. The potential automating implications of generative AI could affect 5.5% of total employment in affluent countries, but only 0.4% of employment in low-income countries. According to the authors, there is approximately equal potential for augmentation across all nations, indicating that with the proper policies, generative AI might have a significant positive impact on emerging countries. However, since women make up more than twice as much of the labor force as males, the prospective implications of automation are anticipated to differ dramatically for both genders. This is a result of women being overrepresented in administrative positions, particularly in high- and middle-income nations. Additionally, as administrative positions have historically been a significant source of employment for women as economies grow, widespread deployment of Generative AI may prevent some administrative positions from ever emerging in low-income nations.
New financing tool aims to increase access to lifesaving mosquito nets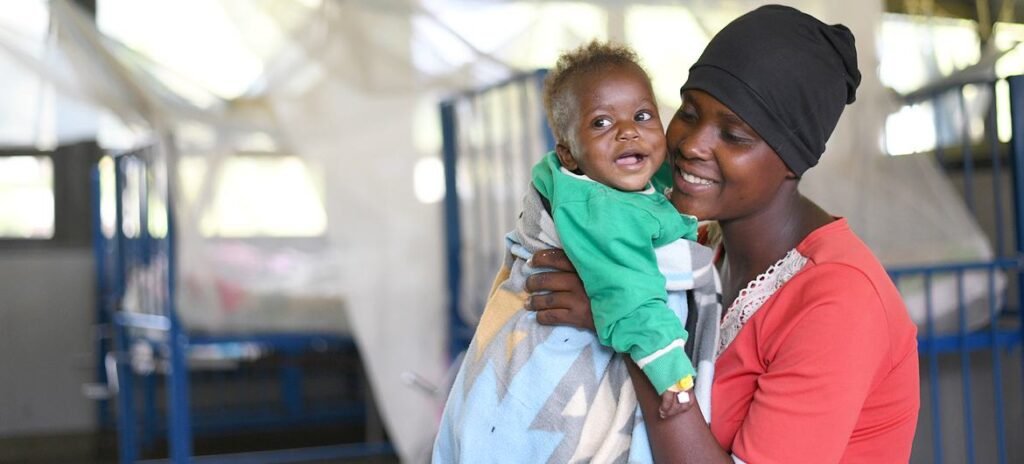 © UNICEF/Maria Wamala | A woman and her baby in Uganda at the Itojo Hospital's pediatric ward, which had no malaria cases due to UNICEF and Ministry of Health interventions, including mosquito nets.
The Global Fund to Fight AIDS, Tuberculosis, and Malaria, a UN partner that invests $4 billion yearly to eradicate these fatal diseases and enhance health systems in more than 100 countries, is behind the so-called Revolving Facility. The Revolving Facility will use advanced market commitments, such as volume guarantees, to negotiate better supply terms for health products in order to promote more widespread access to innovations at lower costs. The Bill & Melinda Gates Foundation made an initial $100 million donation to the Revolving Facility's creation. The first arrangement will be with the Swiss business Vestergaard for their novel dual active ingredient (Dual AI) insecticide-treated mosquito nets, which are more efficient against insecticide-resistant mosquitoes than traditional nets. The World Health Organization (WHO) issued new guidelines for the use of Dual AI nets in March. This includes a strong recommendation for the use of pyrethroid-chlorfenapyr-coated nets in regions where mosquitoes have developed pyrethroid resistance to prevent malaria in both adults and children. The Global Fund seeks to achieve Dual AI net prices that are comparable to existing models while employing a new operating model, enabling countries to increase coverage despite limited financial resources.
References
https://news.un.org/en/story/2023/08/1139782
https://news.un.org/en/story/2023/08/1139402
https://news.un.org/en/story/2023/08/1139972