By Wenxuan Song, Yinlong Shen, Yuan Ning, Yufan Zhu
Dating back to the Qing Qianlong period, as the saying goes, "Chicken feather for sugar", citizens in Yiwu started to do bartering, and the tradition of trading seems to engrave itself in the genes of people in Yiwu. After the Reform and Opening-up in 1978, a series of actions to promote international commodity trade were implemented, which injected stronger impetus into the development of Yiwu's foreign trade. Merchants in Yiwu nowadays still have a mighty vibrancy in trading, and they exhibit remarkable entrepreneurship and global competitiveness, achieving rapid growth overall. However, due to the inertia of Yiwu's history, global economic situation, and other factors, merchants Yiwu are facing some challenges that need laborious effort to cope with.
Merchants have experienced decades of change and made adaptations respectively. Among all industries, the toy is one type of the most protean products and requires sellers to be flexible in making marketing strategies. Starting from the toy industry after COVID-19, including the current situation and challenges faced by those sellers, an overall blueprint for the development of the Yiwu market will be drawn.
In recent years, the Yiwu market's scale and international popularity have grown rapidly. Yiwu market successfully survived during the COVID-19 pandemic, and merchants who sell toys in Yiwu even improved their service and attracted even more customers from different countries. Yiwu's achievements cannot be achieved without external support, and the merchants in Yiwu also put in all of their efforts. In our interview, A toy store manager shared that she didn't even have one day to rest, and she might be the epitome of merchants in the Yiwu market.  Also, one of the businesswomen Ms. Si who mainly sells different types of rubiks cubes for 18 years said that most of the female merchants in the Yiwu market spend almost all of their time in two places: their homes, where their responsibility as mothers pushes them to take care of their children and parents, and their store, where they take care of their businesses. How much they could earn in a year depends on their diligence to a great extent.  
The above situation in the Yiwu market can be put down to several internal and external factors.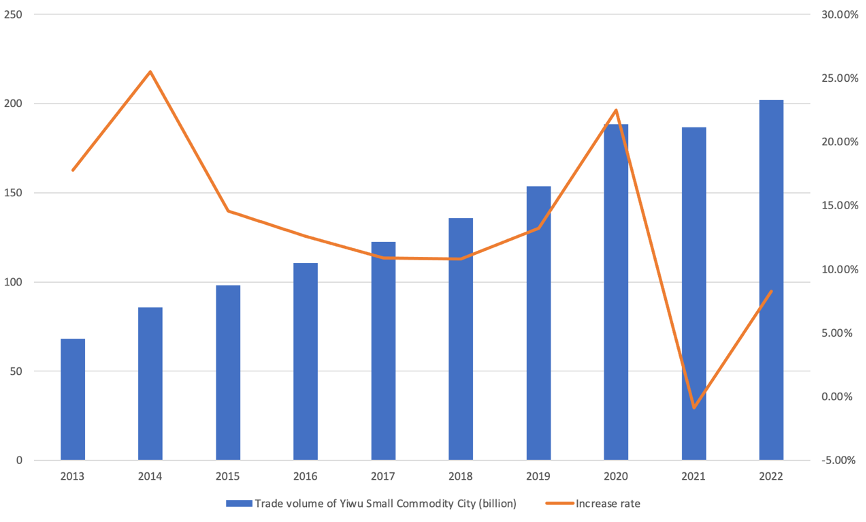 Figure 1: Statistic data on Yiwu small commodity city trade volume and annual rate of increase (Source from: Yiwu Government website, Statistical Bulletin of National Economic and Social Development)
In the recent decade, although the external economic environment kept changing, the development of the Yiwu trade still presented a vigorous trend. Behind the rapid growth in foreign trade in Yiwu, there are some major internal factors, which include the remarkable effort made by merchants in the Yiwu market, and several external factors, which are the aid from governments.
Figure 2: Rubik cubes from Ms. Si's store
To begin with, most toy sellers have adapted the customization service. Ms. Si said that her assembly lines enable her to produce flexible, meeting customers' needs. She also told us that customization is a type of strategy that most of the toy sellers in the Yiwu market would use to improve their market competition and attract more customers. When similar toy sellers in the market about the customization service were asked, the result was that most of the sellers also used customization as their strategy to attract more customers. Therefore, it can be concluded that customization service is common in the Yiwu market. The way that this type of merchant could earn money is by providing better service, building trust, and thus long-term cooperation, and it's one of the internal factors that help toy sellers attract more customers. 
Second, the toy sellers in the Yiwu market mostly put a lot of effort into expanding sales channels. Ms.Sun, who has been in the doll business for more than ten years in Yiwu mentioned that she uses "YiwuGo", a cross-border e-commerce platform, to exhibit her store and products and services to customers. In return, sellers have to pay the insurance money to the platform to put all of their information on it. 
Mr. Shi, a former employee of the cross-border e-commerce platform "Alibaba 1688" shared that if the sellers want to put their store on top, they should pay the platform extra money annually. For example, when a toy car seller pays an "Alibaba 1688" extra fee to emphasize and increase the store's popularity, customers searching for toy cars would see the seller's store at the top of the page. In that case, chances become higher that potential customers would click into the store and take orders. 
Also, using an online platform to sell toys is a marketing mode that helps sellers live through accidents and crises. Because of the COVID-19 pandemic, most of the customers from other countries are not able to come to Yiwu to buy the product after an offline tour. "The online platform helps the toy sellers survive during Covid because we could use it to maintain our businesses." Ms.Sun said. Even after Covid-19, she said that sellers including hers would still preserve the account online and use the marketing mode of online commerce to provide convenience to customers.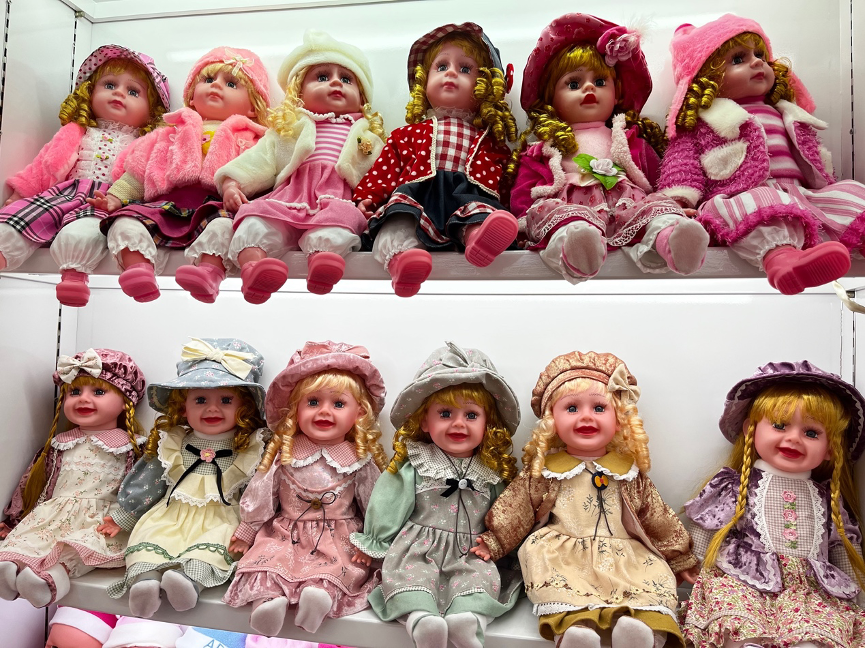 Figure 3: Dolls in Ms.Sun store (Shot in Yiwu International Tarde Market Area 1)
In addition, most of the toy sellers in Yiwu have a very clear self-orientation. Ms. Sun mentioned that self-orientation plays an anchor role in sustainable development. Some toys mainly focus on the large quantity of products they sell with lower prices and profit. The only way that this kind of seller could earn profits is by selling as much as possible to the customers. Another type of seller mainly focuses on the quality of the product. Ms., Sun positions her store as "designed among cheap products and being cheap among designed products", which is a highly distinct self-orientation. 
Almost all of the sellers in the market have their self-orientation and have some slight differences between each seller. It allows the customers could choose the sellers they trust, which causes the rapid growth of the customer numbers in the Yiwu market. 
Last but not least, the replication speed of toy products in the Yiwu market is significantly fast. As sellers want to attract more customers and improve their market competition, replicating the products that sell well from other places is one option. When sellers find out that some toy products perform well in the market, all of the sellers would crowd to join. So, the only way that could make the sellers remain competitive is to have a sharp sense of smell to the popular toy over time and take quick reactions to figure out how to produce it and start to sell. Mr. Shi told us that any product that sells well from any place in the world could be found in the Yiwu market within three days. 
Policies also heavily affect the toy market in Yiwu, which could be understood as external factors of the growth of the Yiwu market. Lots of policies that favor the market have been made to help local merchants thrive. During the COVID-19 pandemic, firstly, tax reduction has been temporarily implemented in Yiwu businesses to provide relief and support, including the toy market, which faced serious challenges due to the depressed economy. Tax reduction policies aimed to relieve the financial burdens of merchants. Value-added tax (VAT) is noticeably reduced or eliminated during the COVID times. 
According to the Yiwu government, the VAT rate was temporarily brought down from 3% to 1% for small-scale taxpayers for three months in 2020. Later in 2022, small-scale taxpayers were even exempted from VAT. Lower VAT rates meant reduced production costs for toy manufacturers, making their products more profitable and helping them maintain competitiveness in a challenging market environment. This action made sure that merchants were able to survive under the economic winter caused by COVID-19.  Ms. Si told us that the local government "greatly supported their business" during the pandemic. She expressed that thanks to the tax refund and reduction, they were able to continue their businesses. 
Technological advancements have also promoted the toy industry and have had a profound impact on the toy market in Yiwu, which has led to the emergence of interactive and electronic toys that offer immersive and engaging experiences. These toys incorporate features such as touchscreens, sensors, voice recognition, and interactive elements that respond to children's actions and enhance playtime. Yiwu's toy market has embraced these advancements, offering a wide range of interactive and electronic toys that cater to the evolving preferences of tech-savvy children. Ms. Sun told us that their customized dolls were sold globally. The technological advancements made it possible for her to create dolls that could speak and process multiple languages and tones. In this way, she and other merchants are able to secure their sales.
People both in China and around the world believe that Yiwu is a place where opportunities occur and miracles happen, and such belief even became more widespread after the abrogation of policies of lockdown. However, potential problems are likely to be revealed after conversations with multiple merchants.
Potential problems
The first problem is the fierce competition among merchants, which mainly includes two aspects: product competition and production costs competition.
As for product competition, the biggest challenge is the problem of homogeneous products and a lack of revolution. There is a large number of toy stores in Yiwu, and some of them provide similar products. In that case, the competition for variety and quality of goods can be extremely intense.
In Yiwu International Trade Market, there are thousands of toy stores, and only a few gaps can be found between the stores and stores. Also, chances are high that customers may find duplicated goods in every five shops they pass.
Searching "stuffed toys" on YiwuGo,257 results appear, sharing similar looking. Considering the total number of about 2,500 stalls in District 1 of Yiwu International Trading Markets, the proportion of nearly a tenth shows a high degree of homogenization in the toy industry in Yiwu.

Figure 4: Results of "stuffed toys" on YiwuGo  (Source: YiwuGo)
For those shops that provide diverse goods, their situation is no better. That is because shops with single kinds of products usually have complete well-established assembly lines and factories which offer them a higher stability, due to a stronger ability to follow the trend tightly. If a product suddenly comes into fashion, sellers who have their supply chains could immediately give an order for the products on the rise.
Except for the problem of identical products, merchants in the Yiwu toy market are not always on their way to go. Due to a relatively late start compared to those large companies that own many well-known IPs, merchants in Yiwu prefer to sell replicas instead of original products, considering the high costs of unique design.
What is more, lots of stores claimed that their products with famous IPs like Marvel and Batman cannot serve online commerce and shopping mall stalls, but only foreign trade and offline lines. It can be reasonably inferred that most sellers do not have legal copyrights of famous IPs, and these replicas suffer a higher risk of being sued if they are sold on large occasions. Thus, due to the lack of supervision, instead of creating their own IPs, selling without authorization is a common mode for small toy merchants in Yiwu.
Figure 5: Famous IP Genshin Impact figures produced by sellers, without copyright (shot in Yiwu International Tarde Market Area 1)
From those sellers who painstakingly build their brands, their efforts are likely to go unavailing. Ms.Sun said that there's a high risk of her original design being taken away from her peers and produced as their product to sell. There is also little chance that such incidents will be held legally liable, due to the grey zone caused by the lax patent system.
This phenomenon shows not only the cutthroat competition between the merchants but also the huge problem of the copyright issue. 
The intense competition in product variety and quality pushes sellers to play around with the costs to make profits.
For one thing, to deal with the problem of all identical products, merchants have no other choice but to reduce costs and in turn the price. Based on this, some merchants who do not have their production factories would face a cost disadvantage, because they can't control the factory's prices. If they want to compete with their peers, they can only compress their profit margins.
For another, creating and even borrowing an attractive IP can be significantly costly. According to Mr.Shi, with revenue of about 300 million RMB for the Ultraman toys, sellers in the market need to pay tens of millions as copyright payment. This ratio can be destructive for the market pattern of small profits but quick sales of the Yiwu market. 
Thirdly, since only the US dollar is the recognized as current money of international trade, Some of the developing countries have problems exchanging US dollars, so they could choose to use RMB for transactions. However, the merchants cannot recognize the source of the money because some of money was obtained through illegal ways such as money laundering. 
Ms. Sun shared her experience that she was imprisoned for the payment she received illegal money since she was completely unable to identify the source of the remittance, there was almost no way to avoid the situation. At that time, as a person who had been staying in Zhejiang Province for a whole month, the police investigated her as a fraudster in Guangxi Province which is 1,700km away. 
She is not the only case. Many Yiwu merchants were struggling with this problem too. Bank accounts being frozen, and risks of prison are the possible severe consequences. 
In general, the toy industry in the Yiwu market is experiencing a period of rapid growth, as is the whole market and the city. This prosperity and revival after three-year covid to a great extent can be attributed to internal factors including the seller's hard work, proper customization and advertisement strategies, and the creation of the combination of online commerce and offline business and external factors such as support from government policies and platform setup. Nevertheless, there is still a long way to go for the Yiwu toy market as it has to cope with problems of fierce competition,  homogenization products, lacking innovation and copyright awareness, cost and profit balance, and the flaws of the payment process.
The challenges discussed above may reveal a more severe dilemma——the inertia of history. As what in Yiwu people's gene is to do businesses with relatively low quality, low price but high quantity of orders made, to erase this trend requires efforts, and more importantly, time. Therefore, merchants in Yiwu, despite their ample wealth, may not be willing to make changes, and Yiwu City may not endure to the time when the industrial upgrading is complete. For sellers, it is not reasonable to ask them to change considering their overall interests.
Until now, the government is trying its best to solve the problems in Yiwu and seek a bright future for Yiwu. For instance, tax reduction taxes and technology promotion are the possible solutions to the competition of reducing costs, and providing stores with original IPs with greater exposure is encouraging toy figures to be legitimate and sustainable in selling. Their actions attempt to point out a road for Yiwu markets and have made some progress so far.
Figure 6: A famous IP store that the government helped to introduce (Source: shot in Yiwu International Trading Market Area 1)
Perspectives of Different Interviewees
Our identity as students and interviewees' identity as merchants in the interviews makes it certain that the scope of our research is limited. As for the same fact, views can be extremely different from a seller, from a customer, and from a government. Therefore, although our interviewees do not intend to conceal any information, what they are told may still only provide a fragment of the overall picture. For example, Ms. Si said that it became easier to do her business after Covid-19. However, the fact is that those who bankrupted in the last three years, do not even have a chance to say something to us, and it is not appropriate to blame Ms. Si, as she would not see this idea, due to limited experience and perspective.
Personal experiences and the overall market
The approaches used to take a glance at the whole market situation through the case study of the toy market have limitations. This is because features of the toy industry would not necessarily fit the features of the overall picture, causing the result can only be representative of part of the Yiwu market. 
References
1. 国家税务总局浙江省税务局. (2023, March 24). 国家税务总局浙江省税务局 媒体视点 浙江义乌:"世界超市"活力回归.  Retrieved July 21, 2023, from zhejiang.chinatax.gov.cn website: http://zhejiang.chinatax.gov.cn/art/2023/3/24/art_13230_584456.html
2. 义乌市"三服务"活动领导小组办公室. (2020). 义乌市应对疫情惠企"四减"政策.义乌政府. (2014). 2014年义乌市国民经济和社会发展统计公报. Retrieved July 21, 2023, from Yw.gov.cn website: http://www.yw.gov.cn/art/2018/1/8/art_1229187192_1447296.html
3.         义乌政府. (2019). 2019年义乌市国民经济和社会发展统计公报. Retrieved July 21, 2023, from Yw.gov.cn website: http://www.yw.gov.cn/art/2020/11/24/art_1229442729_3700839.html
4.         义乌政府. (2020). 2020年义乌市国民经济和社会发展统计公报. Retrieved July 21, 2023, from Yw.gov.cn website: http://www.yw.gov.cn/art/2021/12/1/art_1229601660_3937018.html
5.         义乌政府. (2021). 2021年义乌市国民经济和社会发展统计公报. Retrieved July 21, 2023, from Yw.gov.cn website: http://www.yw.gov.cn/art/2022/4/4/art_1229143247_3967254.html
6.         义乌政府. (2022). 2022年义乌市国民经济和社会发展统计公报. Retrieved July 21, 2023, from Yw.gov.cn website: http://www.yw.gov.cn/art/2023/4/11/art_1229187192_4086603.html